Logos Christian Church(圣道基督教会)
Abbreviated as "Logos" or "LCC"
Who are we?
"Logos" is an independent church established by the American Mission Society (CNEC; now PI-Partner International) between 1969 and 1970.
We worship the Triune God, root in the teachings of the Bible, and in appropriate contemporary context, inherit the doctrine and worship tradition of the Catholic Church, and align with the Reform Movement and evangelical theology.
"Logos" is an urban church that upholds a convergence worship life and a holistic discipleship training and is dedicated to evangelizing people far and near.
What do we do?
The "Logos" group is mainly Singaporeans, but also includes immigrants from various places of the world: East and West Malaysia, China, Hong Kong, Taiwan, Myanmar, Holland, Australia, New Zealand and other regions.
We have Chinese and Hokkien worship service for adults. We also have Chinese and English worship service for students.
"Logos" shepherds and nurtures groups of all ages to fulfill the Great Commission and to practice the Great Commandment through their respective characteristics of the age!
Disciples who resolve to listen to Christ and deny themselves, and love God and neighbors wholeheartedly, we invite you to labor together with us:
To establish a ministry that glorifies God ~ Strive for excellence for the fear of God
To preach and practice the gospel ~Â  Driven by the love for our neighbors, using all kinds of wisdom and your special creativity, spread the gospel and pastor the church
We invite all the guests to experience together a life of faith, hope and love!
The first stage (1969-1989)
The starting point: Founding and Adventuring

In 1969, CNEC established the Logos Christian Church (formerly known as the Chinese Missionary Society Logos Christian Church) in a two-story shophouse at Tower 63, KimKeat Road, East Toa Payoh; The English name is "Toa Payoh Bible Church".
From 1970 to 1984, the church carried out active evangelism to the nearby residents: opened a kindergarten to reach out to children, opened Chinese and Hokkien worship service for adult believers (simultaneous interpretation of Chinese preaching in Hokkien), and also approached young students to start the fellowship ministry for the Chinese-speaking youths.
In the 1980s, the Youth Fellowship Ministry began to distribute gospel leaflets door-to-door to the nearby HDB houses, conduct personal sermons, initiate youth bible studies, organize annual youth retreat camps, print fellowship publications, set up cell groups, carry out discipleship training, produce hymnal poems and songs, found music evangelism groups (Life Strings), encourage and support dedicated young people to study in seminaries and full-time serve in the church. Gradually and steadily the youth ministry thrived, with the number of members continuously increasing and the youth fellowship expanded to two.
By 1984, the church had more than 100 people gathering each week, and the premises could not accommodate this continually growing membership, so the deacon board decided to look for a new meeting place.
In May 1987, the land of the current church premises was purchased and the construction work started.
---
The second stage (1990-2005)
The extending horizon: Consolidating and Advancing

On April 28th 1990, with great excitement, our brothers and sisters moved into the new church building. On that day, we held a short yet solemn dedication ceremony. This building standing in 20 Lorong Ah Soo witnessed the grace of God.
From 1990 to 2005, one after another, the church established ministries for all age groups and different populations: senior citizens, adults, young people, children, and grassroots (Bethlehem Worship).
During this period, those important functions of the church were further extended: pastoring of the fellowships and cell groups (in 1993, the young adult ministry was fully groupnized), establishment of a sisterhood fellowship, establishment of worship and church music ministry (formation of youth choir and children's choir, reform of Chinese Worship, building of worship team and band), inspiration on church ministration, launching of missionary projects (started the annual mission meeting, dispatched short mission team, participated in Chinese training ministry, planted sister church in Kluang, West Malaysia, initiated Chinese immigration ministry), establishment of the community evangelism ministry, and establishment of the cultivation and training ministry (including Sunday school for adults and children).
During this period, the worship services also changed. The original Chinese and Hokkien worship were changed to Mandarin preaching with Hokkien interpretation. Later Hokkien worship service and student worship service were implemented.
From 2001 to 2008, we reached out to the Chinese long-term visitors who have stayed for different reasons: such as students, accompanying mothers and professionals, etc., and customized bible study groups and pastoral groups were set up for them.
---
The third stage (2006-present)
The expanding land: Striving for comprehensiveness and holism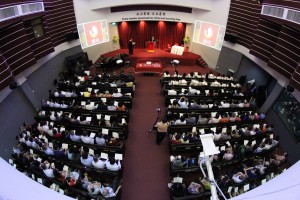 Since 2006, Logos has aimed towards becoming a church with holistic discipleship training; that is, besides the five functions of the church (worship and pray, evangelize and witness, educate and equip, mobilize and minister, fellowship and pastor), we also implemented personal discipleship mentoring to achieve a holistic discipleship training for the fulfillment of the Great Commission!
In 2006, Logos Church carried out a second worship reform by adopting a convergence worship model and instilling ritual elements into the worship. Starting from April 2008, the church decided to design the worship and sermon according to the church calendar and scriptures.
In 2008, the Chinese fellowship expanded. In 2009, in collaboration with CNEC to implement the concept of "diaspora mission", a ministry targeting the recent immigrants from inland China formally set forward, with the goal to more actively spread the gospel among this population, care, pastor, nurture, and equip these Chinese brothers and sisters, help them integrate into local and church community, and mobilize them to participate in the church ministration.
As of 2012, there were about 630 brothers and sisters on our membership list, and the average number of gatherings every week reached 450.